Organised Visit to the John Piper Exhibition
Janice and Paul have arranged a tour of the
John Piper Exhibition,
being held at the
Mead Gallery,
Warwick Arts Centre, University of Warwick,
Gibbet Hill Road, Coventry, CV4 7AL on
Friday 8th June at 11.00am
. You will be treated to a guided tour by the Curator of the Gallery, Sarah. The gallery is then closing for two years for refurbishment so this is a unique opportunity for everyone. Please just turn up at 11am and enjoy!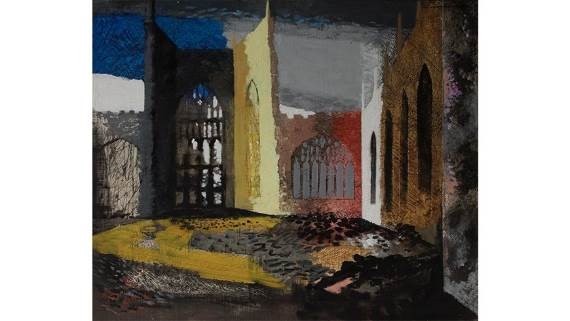 John Piper
(1903-1992) was a major contributor to the artistic and cultural landscape of twentieth century Britain. On 15 November 1940, the day after the
Coventry Blitz
, Piper visited Coventry and made a series of drawings of the ravaged city, in particular of the cathedral and other gutted churches. He returned to the city in the 1950s when
Basil Spence
commissioned the artist, with
Patrick Reyntiens
, to design a huge stained glass window for the city's new cathedral, which was consecrated in 1962. In 1962 also, construction began on Liverpool Metropolitan Cathedral, for which Piper and Reyntiens again designed the stained glass centrepiece.
In this, the first major exhibition of John Piper's work since 2003, is presented a selection of works starting with the artist's idyllic images of rural Britain in the late 1920s and 1930s through to the depictions of bombed-out churches made during World War Two as Official War Artist, as well as his romantic landscape paintings which were a preoccupation after the 1940s.
March 2021 (1)
February 2021 (1)
November 2020 (1)
September 2020 (1)
August 2020 (1)
March 2020 (1)
January 2020 (2)
December 2019 (1)
August 2019 (1)
July 2019 (2)
June 2019 (1)
May 2019 (2)
March 2019 (2)
February 2019 (1)
January 2019 (1)
December 2018 (1)
November 2018 (3)
October 2018 (1)
September 2018 (1)
August 2018 (1)
June 2018 (2)
May 2018 (1)
April 2018 (1)
March 2018 (1)
February 2018 (3)
October 2017 (1)
September 2016 (1)
July 2016 (1)
June 2016 (1)
May 2016 (1)
April 2016 (2)
November 2015 (2)
September 2015 (2)
July 2015 (1)
June 2015 (1)
May 2015 (1)
April 2015 (1)
March 2015 (1)
January 2015 (1)
December 2014 (1)
November 2014 (1)
October 2014 (2)
September 2014 (1)
August 2014 (1)
June 2014 (1)
May 2014 (1)
March 2014 (2)
January 2014 (1)
October 2013 (1)
September 2013 (1)
June 2013 (2)
May 2013 (2)
April 2013 (1)
March 2013 (1)
February 2013 (2)
November 2012 (1)